Blushing With Pride !
We asked our lovely customers Lynne and Alan Casson if they would consider dropping us a few lines for a BDS testimonial – and we received the amazing accolade below for which we are humbled. It's both a glowing endorsement of Silvelox Garage Doors and a super strong recognition of our technical expertise, for which we are very grateful:
We have had our beautiful Silvelox Garage Door since 2006 with very little need for attention until recently. The door developed a fault, it would go up but not down! The door is heavy to pull down and we use it daily, so we contacted a company that had provided us with some parts for the pedestrian door. They said they couldn't help us with this problem and recommended that we speak to David Blacklock at BDS, who, they said knew everything about Silvelox doors; and what he didn't know wasn't worth knowing! We phoned David and had a conversation to try and establish what was causing the problem. As we live in The Lakes a long way from David's usual service/repair area he said he would try and find a Silvelox specialist technician closer to us.
Unfortunately, or as it turns out, fortunately, David couldn't find an experienced Silvelox technician – so despite the time and costs involved we set a date. David quickly identified that the door needed a new circuit board – he didn't have a new circuit board in stock, so fitted a spare used board to keep us going, until the new board arrives, which he will come and fit.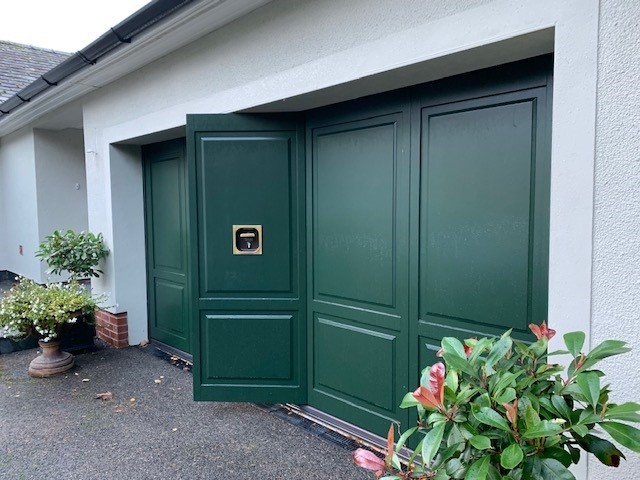 Wanting to make the best use of David's skills and time, we mentioned that the external light on the door handle no longer worked.
A previous "technical expert" had tried to fix the light with a hammer and a big screwdriver – which failed and also ruined the thread of a vital screw. We weren't sure that it was possible to fix it.
David took the challenge on and succeeded.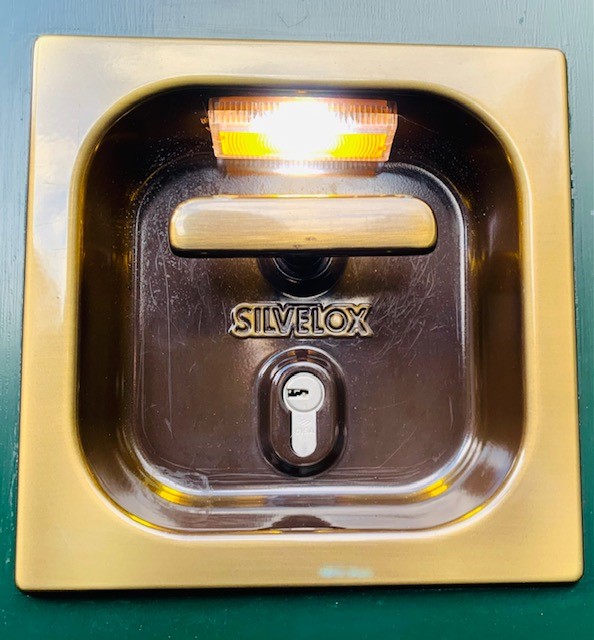 We now have brilliant LED lights inside and out, which are very bright and a big improvement on the original bulbs.
What this means is that once again, we can look to see the external light signalling that the door is fully closed and locked whenever we leave the property, which gives us a great sense of safety and security.
We think it's important to say to anyone thinking of purchasing a Silvelox that in our opinion they are the best garage door. Buying one is a major investment – but one we have certainly never regretted. The reassurance of having the lock and bolt closure every time we leave our house, safe in the knowledge that the door gives us the highest level of security is priceless; and the pleasure of owning a Silvelox door never wears off.
Day In, Day Out they are a magnificent addition to any home and reassuringly secure.
Another important addition is to have found David, for his knowledge of Silvelox and his respect and care for his customers. With BDS and David you can be assured that your investment is in very safe hands. We are very appreciative of David's dedication to his business and his customers.
We feel fortunate to have been advised that he is the guru of Silvelox Garage Doors – which we can assure you he most certainly is.